i used to rule the world,
seas would rise
when i gave the word
name;;
Medusa Destroyer/Human alias:  Hikari Hana.
age;;
18
gender;;
  female
date of birth;;
November 16th
height;;
5'4
weight;;
110
hair colour;;
grey hair that seems to have strands of purple
eye colour;;
Red
wardrobe;;
A red upper body armor/dress with a cape and matching red shoes
faceclaim;;
Inner Akashiya Moka // Rosario-Vampire
picture;;

i used to roll the dice,
feel the fear in my enemy's eyes,
listen as the crowd would sing,
" the old king is dead,
long live the king! "
personality;;
Medusa is a rather tedious, impatient person. Born with a spoiled sense of entitlement, she often begged her parents for everything and almost always got her way(Due to being the eldest of three.).  However, after a prolonged sense of peace, war broke out between the Black Moon Clan and the Moon Kingdom.   Due to a tragedy in the war, she lost everything dear to her.  She became angry and bitter, taking up her sword and vowing to destroy the Moon Kingdom and the world itself.
likes;;


Nail Polish

Lipstick

Friends

Love

dislikes;;


Her enemies

Inconsiderate people

vegetables

Being alone

weaknesses;;


Her Sword contains destructive force, but it also can't withstand too many attacks. Could easily break.

If a person possesses enough Positive Energy in their heart, they can resist the influence of Medusa's malevolent energy

Love: She'd never been in love before, but it's so powerful of an energy that it negates her malefic energy

strengths;;


Ability to manipulate others

Her Sword's destructive Power

Deep down, because of her own pain she can understand others better.

goals;;
On the outside, it's to destroy the Moon Kingdom and avenge her parents. But on the inside, it's to seek forgiveness and understanding.
fears;;
That she's always alone.

one minute i held the key, next the walls were closed on me,
and i discovered my castles stand
upon pillars of salt and pillars of sand
home;;
 Nemesis.
affiliation;;
 Independent.
speciality;;
Malevolence is the cause of Irrational Thoughts, Medusa is able to manipulate the hearts of weak-minded humans, granting them demonic power  to fight on par with the Sailor Senshi. The stronger the malice in a human's heart, the stronger their demon side when controlled by Medusa.
But the stronger the Demon, the weaker Medusa becomes and in the worst case scenario, she loses control over the demon.
weapon(s);;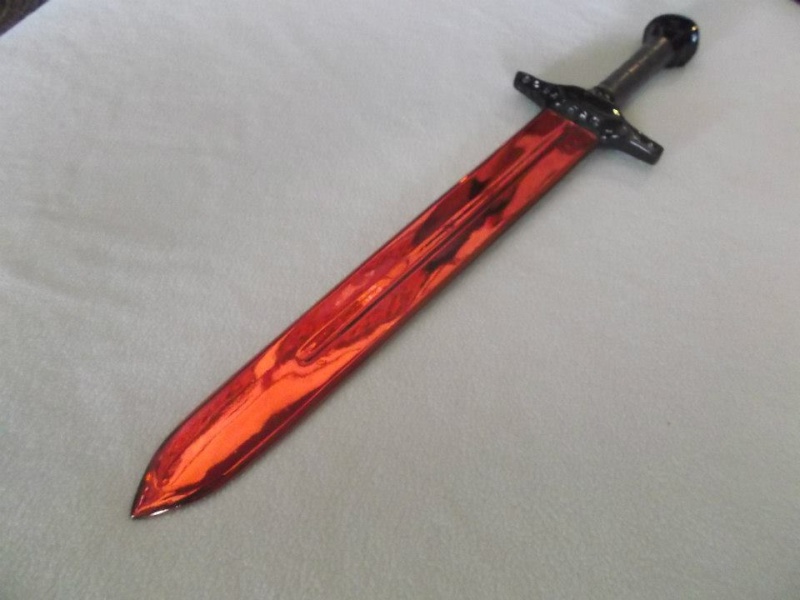 attacks and techniques;;
-Mind Attractor: By projecting her negative energy within a 10 M radius, she can bring a human into her influence, transforming them into a weak Youkai.
(Think: Shittenou Arc, or the Moukai insect invasion of YYH)  
-Destructive Pulse: With a powerful slash of her sword, she's able to make the wind pulsate according to her hatred and malice. The attack's so powerful, she could create mini red-colored twisters. Alas, because her attack's so powerful, it weakens her to use it too much.
Malefic Burst: By cutting herself with her Demonic Sword, she can increase her own Malefic Energy. While this makes up for a weakening of Malefic Energy, she could lose too much blood and die from blood loss.
true form or outfit;;
When transforming into her form as the Ruler of Malice, a bright red light overtakes the heavenly skies, projecting a protective beam around her while her body armor/sword is bestowed unto her
true form picture;;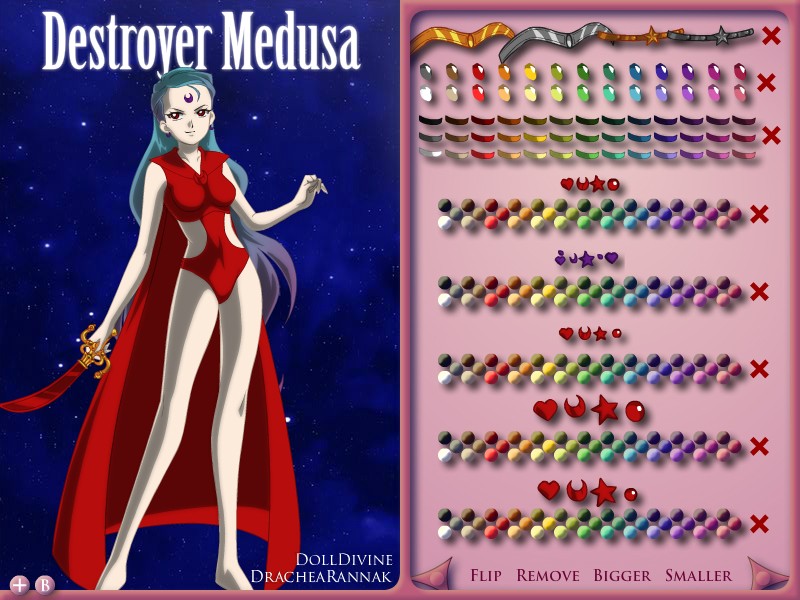 i hear jerusalem bells a'ringing,
roman cavalry choirs are singing,
be my mirror, my sword, and shield,
my missionaries in a foreign field
allies;;
Possessed Humans, anyone else who wishes destruction on the Moon Kingdom.
enemies;;
The Sailor Senshi, and the Moon Kingdom in general.
parents;;
None
siblings;;
None
other relations;;
The other Black Moon relatives
crush and sexuality;;
Lesbian
history;;
During the previous war between Nemesis and the Moon Kingdom, in which Wiseman used and deceived the Black Moon Clan, there was a young girl named Medusa. She was banished to the far ends of the Black Moon where Wiseman sensed her dormant powers. Alas, it'd be a long time before they awakened. And so, sensing this to be his ultimate trump card should he fail, Wiseman planted a false depiction of her past into the baby's mind.  
He created the false illusion in her head that she had a family, that she was loved. Then he tore that away with a cruel depiction...
they were massacred in front of then-16 year old Medusa's eyes!
This caused a dramatic traumatizing event, tears of blood followed from her eyes along with the most demonic scream in the world. Her armor adorned to her body and her red sword in her hair, she swung wildly and killed off the soldiers....
But to the Maiden of Malice, that wasn't enough. Her hatred had yet to be quelled. She lost her family! Did the Moon Kingdom ever feel such pain? She'll show them!
chatango;;
Sexiness1
alias;;
Se
experiance;;
About 10 years, on Rinneh-sama's site among other things.
sample rp;;
This can't be....Medusa thought. The pool of blood right before her eyes, and the bodies of her family lying right there!
Medusa was right there in the midst of the blood. Her knees bound to the ground in shock and disbelief.
"Mama!  Papa! Iori-chan! Starbright-Kun! Everyone!" She started to sob uncontrollably, allowing the Knights to spot her.  "Oh God! A young girl!" One knight shouted in horror and another asked "Did she see everything?"  Another still felt guilty: "Does this mean everything they said was true?"
But a higher-ranked knight kept his "composure" and yelled out: "Idiots, kill her!"
"But....Commander" The guilt-ridden knight protested.  But the commander would have none of it. "If this is reported, we'll be banished to Nemesis! Do you fools want that!?"
The other Knights gulped, considered their options and drew their blades and pointed them at the young girl. One Knight quipped "Don't hold this against us!"  and began charging the wide-eyed girl.
'Die?'
The young teenage girl thought.
'Am I going to die?'
At first, she closed her eyes seemingly ready to resign to her fate. But then new thoughts began to sprout in her mind. Resentful thoughts, malefic thoughts.
If I die, these bastards will get away with murder. If I die, my family's sacrifice would've been for nothing and I....
The blades came ever so close, that when Medusa opened her eyes, tears of blood flowed through as they met the silver glint of murder....
"I HATE THEM!" She shouted, a powerful red aura enveloped her body, creating a barrier that blasted the other knights away. One of their swords fell beside her and she grabbed the hilt, transforming the blade into a red sword.
"Could it be, that the power we picked up, was that young girl's dormant power!?" One of the knights asked in horror. Then screams ensued. The yell of a girl possessed by hatred, and the screams of her victims as their blood spilled on the ground.
She dragged her blade on the ground, steadily approaching the last Knight alive. "AHHHHHHHHHHHHHHHHHHHHHHHHHH!" She screamed as she raised her blade in preparation to kill.
"You have the right to kill us, to feel anger as you wield your blade. We took away
something from you that can never be regained. But...as you kill me, I beg you to find forgiveness and inner peace in your heart."  
"DAMN IT!" She screamed as she slammed her blade down, cutting the Knight in half and temporarily ending her rage.
"Sorry, old geezer.  I won't be able to find inner forgiveness just yet, because you were merely tools of oppression.  Tools of oppression by a tyrannical Kingdom that took everything from me!"
A Purple Crescent Moon appeared on her forehead as she began to levitate, showing a high potency in her Black Moon Powers and she teleported back to Crystal Tokyo, back to where the Moon Princess lives, laughing carefree while others suffer indirectly from her hands!

for some reason i can't explain,
i know saint peter won't call my name,
never an honest word,
and that was when i ruled the world
] T E M P L A T E, made by Tsuki ]